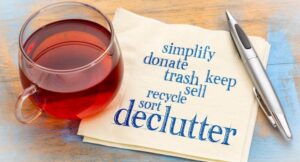 Before I began decluttering my home, I often felt frustrated with how much time and energy I was spending managing my stuff. I spent so much time in my day, picking up, cleaning, maintaining and organizing my stuff. Finally, I just had enough, and I began to minimize the stuff in my home and my life. Decluttering has benefited my life in so many ways. It was so freeing to declutter and let go of the excess stuff that I owned and only kept what I loved and used regularly. Taking the first steps are often the hardest for a women with ADHD. just the thought of declutter your whole house can feel overwhelming.
During the 7 day Declutter e-course you will help you eliminate your clutter in every room in your home. Here is what you can expect from this e-course
-An email from me for the next seven days with a different decluttering step each day.
-My 7 day Declutter workbook which you can fill out as you go through the steps.
-Encouragement that you will be able to use during your decluttering journey
After learning my system, you will have so much more time for you, and have a positive impact on your life. And nothing motivates a women with ADHD more than seeing positive results right away. If this sounds interesting to you.
Great! Just sign up with your email address and you're all set.
I hope my e course will truly help you and make a positive change in your life.
If you have any questions or comments, please share them with me, I would love to hear and answer!
Coach Jenna