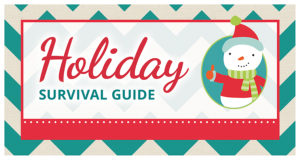 The holidays are right around the corner and it is surprising on how much there is to do and how fast the time disappears. The holiday can be a great time to spend with family and friends, however for an adult with ADHD it can be highly overwhelming because there are so many things to do. It is handy to have a few Christmas organizing tips and trick under your belt to make your preparation go more smoothly.
Get Your Christmas cards Written – We all have an enormous task when it comes to Christmas cards. It is a project in itself to write the cards, buy stamps, and get them out in time. So now is a great time to get them done. Sit down and do a few cards every evening. If you are working from your address book it makes sense to do it alphabetically and work through it that way. Here are some other ways to save time to writing cards – set up your addresses on your computer and print them off onto ready made labels – this can be updated yearly if needed, get the family to help out and if you can afford to do this, get your cards printed with your name and a special message so all you need to do is to just send them out.
Think about weight when buying – If you are sending presents through the mail, you can spend fortune on top of the preset itself just in packaging and postal charges. Try to think smart when buying a present and that are easy to wrap, not fragile and are lightweight.
 Stick to a present list and budget – I can't state this enough. Don't go overboard on Christmas. We all know that Christmas falls on the 25th of December every year, yet year after year we seem to fall into a trap of overspending and then paying it months and who really wants to live like that?  My advice is only spend what you have. My family sticks to a budget of $25 dollars for everyone. You will be amazed what you can find for this amount. Try it and see for yourself
 Make friends with your planer – Your planner comes into its own at this time of year and I'm not just talking about the obvious parties I am talking about your to do list. The trick is to allocate specific days for each thing on your to do list –schedule them and they will have more like hood of getting them done.  Planning in advance will alleviate stress.
Do little and often – Don't leave things to the last minute – unless you love stress. If you spilt up tasks into manageable chunks ad work out a timeline on when they have to happen, then you can start too check off the smaller jobs and before you know it, you will have everything done with very little stress.
 Declutter before the big day – It is a great idea to go around the house (a room at a time) and get rid of anything that shouldn't be there. Over the year you will have collected things and can be removed to make space for new things. This all means that you have space to breathe, a space to add new decorations and presents and when the decorations come down, the house will feel less cluttered to.
 Get Everyone Involved – When it comes to organizing the holidays it is important not to let yourself get weighed down by expectations. It is your time to de-stress and relax. Why don't you get your family involved in the prep and the day itself? Delegate tasks to family members such as let the children decorate the tree, if you have family visiting why don't you get them bring a bottle or do a course of food.