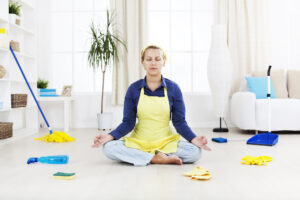 Cleaning is not a women with ADHD favorite thing to do especially when you have to spend a whole weekend cleaning your home from top to bottom is not anyone's idea of a good time. Lucky for me and you there is an easy way to avoid it and still have a clean home. How you may ask? Easy, break down your cleaning into easy steps which will save you time from spending a beautiful day inside.
Step # 1 Put Your Cleaning Tasks Into Your Calendar –
As you are filling out your calendar for the week, you will want to refer to your cleaning planner for the chores you have listed there. Go down your list and fill in each chore on the days where you have sufficient time to do them. As you see a chore on your list note the time it will take to complete. If it is just a few minutes you can incorporate it into your daily schedule.
Here are some examples
Wash out the inside of the dishwasher – Complete while making dinner.
Wash bed linens – Do on laundry day.
Step #2 Choose The Right Day–
Choosing the right day and time to do certain chores will allow you to complete it without the feeling of overwhelm. So, for example, if you have clean out and wash your fridgerator on your list you will want to assign this to a day where you have the time and the help needed to do this task.
Step # 3. Learn to delegate without guilt.
Before we dive in here, let's go back to the CEO comment, because when you act like the CEO of your home you are not only running your home but you are also delegating things to others to ensure everyone is doing their share. That means instead of you being the housekeeper running around cleaning, and washing, and cooking for the entire family, you are instead the organizer of daily activities that now get delegated to those who can best handle the job.
Step #4 Delegating The Chores-
There are going to be so many different tasks in your cleaning calendar that your children and husband can help you out with.Write these items on your calendar on the days you know they will have the time to complete them. Next, let them know (well, ask might work a bit better) that you have a few things you need them to do this weekend.
Here are some examples
Wash the baseboards – Children
Take down curtains for washing – Hubby
Wash light switches – Children
Repair holes in the walls – Hubby
Wash the dog's dishes – Children
Clean off the top shelf in the closet – Hubby
Wash the windows and screens – the entire family
Step #5. Rinse and Repeat –
Do this process like clockwork each week. Fill out your calendar with cleaning tasks. Delegate and list the name next to each task on your calendar. Ask and then remind your family of tasks they need to complete that week. Give yourself enough time (and help) for any big tasks set for the week ahead. And just like that, you are cleaning as you go rather than cleaning all at once.