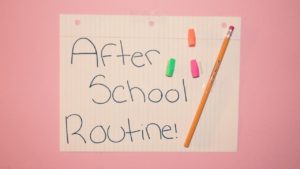 I can remember when my daughter with ADHD was younger I was so busy concentrating on making sure our mornings ran like clockwork, and forgot the importance of a smooth after school routine. A full day of school took a lot out of her so I came up with 5 ways that they had a happy after school routine and I wanted to share them with you.
Connect with Your Child: Children with ADHD who are able to express their emotions are much happier and calmer. I started connecting with my daughter on the drive home from school, I actively listened and showed her that I was available and open-minded. I let her know that they could talk to me about anything (and still can till this day). One of the ways I taught my daughter to express her emotions was to teach them simple vocabulary to describe her feelings. Suggest phrases like: "I'm feeling sad because," or "When this happens, I feel…," or "I don't like when…". Finally, ask them to share their proud moments from their day.
Meditation: Research shows that meditation can help a child with ADHD reduce stress, increase attention, and improve academic performance. Here are some meditation techinques I used: Sit together on the sofa or in a circle on the floor,ask everyone to close their eyes; you might want to hold hands, take 5 slow breaths in and out together.Sit in silence for a few minutes, ask your child to mention one special moment of their day and then take two more deep breaths to complete the meditation.
Teach Your Child To Eat Mindfully: At a young age I taught my daughter to savor her food by eating mindfully. I asked her to use her five senses to describe their snack: color, texture, smell, taste, sounds as they chew. Avoid caffeine and choose calming foods such as: foods with vitamin C: oranges, blueberries, mangos, cranberries, strawberries, broccoli,almonds and almond products like almond milk and almond butter, foods with tryptophan: turkey, milk, bananas, oats, soy, nuts, peanut butter, sesame seeds.
Play Time: I encouraged play time before my daughter her did her homework. This unstructured play time helped her learn to solve her own problems, develop interest and practice many skills that are necessary for healthy development such as regulating fear and anger. Over time, free play helps a child feel happier, calmer, and more confident.
Exercise: Children with ADHD who exercise are less stressed and perform better academically. I encouraged my daughter to exercise such as riding bikes, taking a walk, or some relaxing yoga poses. If you can take them outside so they can enjoy spending time in nature. There are so many wonderful health benefits including reducing stress and anxiety.