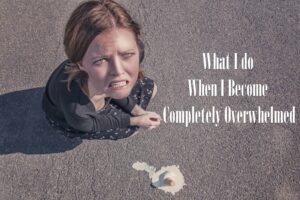 Mom's with ADHD have so many responsibilities, and it can take a toll on your mind and body. It is just an extremely busy and taxing time in our lives, while your children are young and need us so much. In addition we have housework, errands and work among other things… It can be exhausting, physically and mentally, leading to ADHD mom burnout. We all seem to get to this place at some point. We become the burnt out ADHD mom, where we have to wonder how to even keep up anymore. I've been there, along with so many other ADHD moms. It's easy to fall in a slump. However with a few simple mindset changes, you can feel like a happy and productive ADHD mom!
Lessen Your Perfectionist Thinking– There is no reason for you to think, "I have to do it all perfectly, If it isn't done my way, then it's wrong, I'm the only one who can do things right." When in fact, you don't It really doesn't need to be perfect. Are your kids happy? Are they healthy, cared for, and loved? If so, then you're doing great! No need to be so hard on yourself!
Write A Gratitude List– It's important to keep some perspective.  Of course, being a mom with ADHD is difficult, stressful, and you're always wondering if you're doing it right or doing enough. It is very important to remember that you have so much to be grateful for too. Happy kiddos who are loved and love you, too. A warm house to sleep in, even if it's a little disorganized and messy. Keep a gratitude list in your journal or planner to help remind you of all the things you love about your life on those hard days. Or if you're like me, a gratitude list might actually be one more piece of paper to lose in the chaos, just remember to take 2 minutes each day with a deep breath to think about and remember what you're grateful for.
Make Self-Care A Priority.  I know what you are thinking, Yeah, okay. I have so much to do and I don't have time to do any of those things. But here's the thing. You need to make the time. Let go of some of the unnecessary things that is not a priority. If you don't make just a little time to take care of yourself, you can't take care of anyone else.