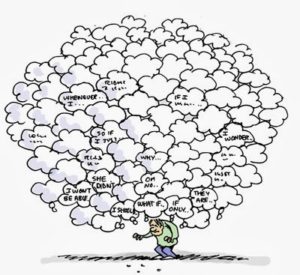 Rumination is when an adult with ADHD gets focused on a thought and can't shift away from it. There maybe some days when an adult with ADHD feels calm and in control and then a thought will pop up that seems to stick. Maybe the person can't stop thinking about how someone reacted to you at work or home. Maybe it is a worry about time, money or relationships. Either way that one ruminating thought seems to keep on circling your ADHD mind. So how can you stop ruminating once and for all? Here some strategies to try.
 Name It & Tame It – This is a simple dreadfulness practice. All you have to do is recognize the thought that you are having name it by an emotion such as fear, worry, nervousness or jealously. To improve your ability to name it and tame it, it is also important to try this with positive thoughts such as love, joy, excitement, and calm. This works for a person with ADHD because naming an emotion activates the part of the brain associated with logical thinking and it quiets down the emotional part of the brain.
 Question The Rumination- Another cognitive technique an adult with ADHD can try to reduce the severity of rumination is inquiry. Similar to the name it and tame it, you can ask yourself questions that can engage the logical part of your mind and calm down the anxious thoughts. Some useful questions to ask yourself are: Can I be absolutely 100% sure that this is true? Does this thought serve a purpose right now? Would I be better without this thought? If I let go of this thought right now, how would I feel?
Focus on Small Steps- Sometimes when an adults with ADHD is ruminating over something because it seems to daunting or overwhelming we end up getting lost in the thought as opposed to moving towards actions. The best way to get around this is to ask yourself: what is the smallest step I could take right now to solve this problem? Once you have answered the question, focus only on that one solution and try not to think about any other related thoughtless about the bigger picture. After the first solution has been completed, ask yourself the same question again until the task or project is complete.
Set A Time Limit- If your rumination is like an itch that needs to be scratched. If this is the case try to set a time limit. Allow yourself to think about the thought you are ruminating on and only think about this thought for no more than 15 minutes. After the 15 minutes are over, when the ruminating thought tries to creep in say to yourself "Thank you but I have already thought about the thought you are ruminating on and only think about this thought for no more than 15 minutes. After the 15 minutes are over, when the ruminating thought tries to creep in say to yourself "Thank you but I have already thought about this long enough."