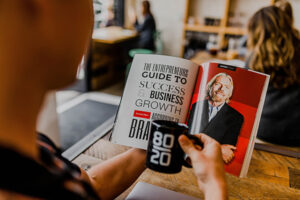 Do you sometimes feel like you are the only entrepreneur who is struggling with ADHD? Or, even if you know there are others, do you often wish you could just talk to them, see how they are managing, learn from each other, or simply just have a good laugh in recognition of shared struggles?
Getting distracted by other things that need to be done, trying to figure out the most important tasks and then getting distracted by having too many internet tabs open, or the ability to follow through without not getting offended can all be difficult when you have ADHD. Wouldn't it be helpful if entrepreneurs with ADHD could all get together to share their experiences, worries, difficulties, solutions, wins and act as accountability support with each other?
The ADHD Entrepreneur Coaching Group is exactly that- an online community exclusively for Entrepreneurs with ADHD, a support place to help you live well as an entrepreneur with ADHD.
In this group, you will ​expand your understanding of why individuals with ADHD make better entrepreneurs, develop your skills and habits to optimize brain function, maximize talents, motivate yourself to succeed, and identify the specific action steps that work best for you. the ADHD Entrepreneur Coaching Group will help you learn how to manage your time, energy and create systems that work for you.
In addition, in the coaching group setting you will get to share with and learn from other entrepreneurs with ADHD, discuss your experiences and reap the benefits of having multiple minds in the room with you.
The ADHD Entrepreneur Coaching Group is for entrepreneurs with ADHD who need
-Weekly connections and check in online with support, encouragement and accountability with other entrepreneurs with ADHD
-Sessions that are structured for maximum effect
-A safe space to be the authentic you
What is included in the ADHD Entrepreneur Coaching Group?
-12 weeks of intensive, remarkably effective coaching with Coach Jenna, where we will focus on your most important ADHD life issues as an entrepreneur.
-Each group session will be an hour and we will meet twice a month on Thursdays at 8:00 pm EST. It will start March 19, 2020 till April 9, 2020. The cost is $97.00 per month or one payment of $291.00
-There will never be more than 10 people in each coaching session, there will be a brief teaching moment and an opportunity for confidential sharing, setting weekly goals and accountability.
-Access to a private Facebook group to maintain contact with other entrepreneurs with ADHD in the group coaching
Bonus – if you sign up for my ADHD Entrepreneur coaching group before February 3, 2020 as a bonus gift from me you will receive
-Three free coaching sessions
-Solving The Procrastination Puzzle For Entrepreneurs with ADHD Digital book
Sign up Today