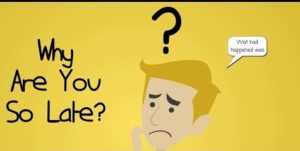 One of the biggest complaints of adults with ADHD is persistently being late. Being late for work may cause you to lose your job, being late for a family function may cause embarrassment and/or not picking up your children from school on time may create guilt. No matter how many times you have tried to be on time, and all those times you promised yourself you will do better, you still are persistently late. The following strategies are some ways help adults with ADHD overcome their persistent lateness.
Make a List of Things You will Need For Regular Tasks/Appointments- Do you tend to waste time in trying to think of the things that you need to do and your regular appointments. You can save time by writing out the things that you need to bring with you. For example, if you are going grocery shopping, you might list the things that you need to buy, any coupons, and a pen to keep a total. You can drop the list into your calendar for an easy reference.
Pack Your Bag A Few Hours in Advance – When your mind is busy and occupied when it comes to leaving on time. Instead of waiting to the last minute to get things ready to leave, start early and pack up the things that you need in advance when your mind is cool, calm and collected.  Of course, you may not be able to pack up everything all at once, but you can rest easier knowing that a good chunk of your packing is already done.
Do Not Multitask Before Leaving – Do you need to check your email, text, watch TV or make the last minute phone calls as you are getting ready to leave. Declare a ban on mufti-tasking & focus your efforts on only getting ready to leave.
Get Out Of The Habit Of Doing "Just One More Thing- As You Are Getting Ready To Leave –Stop! Step away from the stack of papers that need to be filed or the pile of laundry that needs to be folded. Similarly, to multi-tasking, beginning just one new task as you are getting ready to leave is disruptive to your schedule & can take over your goal of leaving on time. The next time you find yourself starting a new task, pause, take a deep breath and fix your mind on getting yourself ready to leave.
Do Not Schedule Back To Back Appointments – Scheduling appointments back to back is a formula for lateness. If any of your appointments runs late, you may become behind on schedule and would have to make up for lost time.
Schedule Travel Time In Your Calendar –Scheduling travel time into your calendar makes it easier as when you need to stop what you are doing, pack up and hit the road. Once you begin to put in your travel time into your calendar, you will become more aware of how much time you need to get to point A to point B.
 Create A Time Cushion For Yourself -Going from appointment to appointment can be weighed down with travel delays, communication gaps and other headaches. Try to make things comfortable for yourself by adding a cushion of more time in addition to your travel time. At the very least, you will end up having enough time to get to your destination, and if you find yourself running a little late, you will have this cushion of time to cover any unforeseen delays.